Put an end to prolonged downtime whenever your business experiences IT problems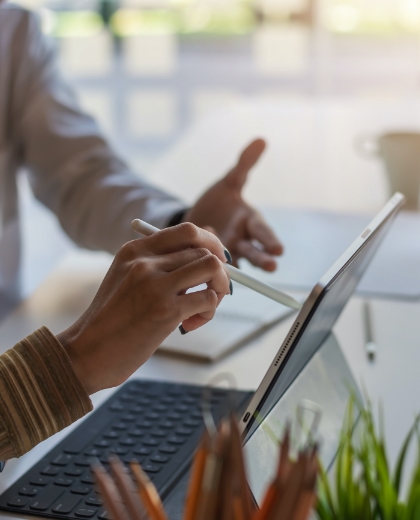 Partnering with the wrong IT provider can be frustrating and costly, especially if they're slow to respond and leave you unable to operate for days every time a tech issue occurs. Clarity Technology Group has a proven track record for providing fast and responsive IT support to Madison businesses for more than 20 years.
Our professional IT support team can solve most IT problems remotely, so it won't take long for a solution. When there's a need to be on site for hands-on assistance, we'll be there to resolve your issues as soon as possible because we know how valuable your time is. Your precious time, money, and efforts are saved because we'll directly address the root of the problem, so you don't have to deal with the same technology issues again. 
We'll see to it that you'll experience fewer problems in the future since you pay the same flat-rate fee regardless of the number of issues we resolve. In the long run, you'll save on hiring in-house IT professionals while helping your tech infrastructure operate at peak performance.
Why choose Clarity Technology as the IT support provider for your Madison business?
Clarity Technology Group has been providing unrivaled IT-related services in the Madison area since 1999. We are a customer-centric organization that values long-term relationships rather than quick sales. We first seek to understand your business and then recommend solutions without pushing unnecessary products or services that you don't need.
Clarity Technology offers an entire suite of services and solutions to improve your IT infrastructure
Managed IT Services
24/7 IT Management, Data Backup, Remote and On-Site Support
Cybersecurity
Antivirus Software, Managed Firewall, Network Security
VoIP Solutions
Cloud-Based Phone Systems, All-Inclusive Call Features, Application Integration
Cloud Services
Productivity Suites, Virtual Desktops, Servers, and Applications
IT Consulting
Senior-Level IT Guidance, Project Discussion, Cost Analysis
Backup and Disaster Recovery
Automated Data Backup and Restoration, and Business Continuity Planning
Web Development
Mobile-Responsive Website Design, Development, Hosting, and Support
Partner with an IT support provider that is committed to making your business more successful
Clarity Technology is trusted by businesses throughout Madison for IT support. See to what our clients have to say
"Clarity provides a hands-on approach to their customers. They are easy to get in contact with, during business hours and after hours. They work hard to resolve any issues quickly, and their pricing is always reasonable."
"We asked Clarity to do an entire website overhaul that involved complex challenges along with tighter deadlines. Their entire team truly 'gets it' when it comes to project management and communication. They were able to provide solid solutions to some of our trickier website challenges. The Clarity team simply got it done and on budget."
"Partnering with Clarity was one of the smartest moves we made. Immersing themselves in our mission, Clarity understands the unique needs of our constituents and our goals then become their goals. The team is strategic, tactical, and a pleasure to work with every day."
"We have been using Clarity's services for five years. Their staff is very friendly and professional. They work hard to troubleshoot and fix our computer/technical issues. The help desk always gets back to us in a timely fashion. We also appreciate that they follow up with us to make sure things have been addressed and resolved satisfactorily. Thank you, Clarity, for providing such positive customer service!"
Frequently Asked Questions
Count on fast and professional IT support for your Madison business and eliminate technology obstacles
Contact Clarity Technology now for worry-free IT
"*" indicates required fields
Clarity Technology Group, Inc.
434 S. Yellowstone Drive,
Suite 100
Madison, WI 53719